<![if !vml]>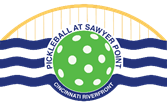 <![endif]>
Benefits of Joining:
Being a Supporting member for Pickleball at Sawyer Point

Ability to reserve and utilize the ball machine either as an individual or a group

Receive discounted parking in the Sawyer Point parking lot from Cincinnati Parks

Receive discount at partner Montgomery Inn – Boathouse

Receive discount from partner Baddle Pickleball

Participation in any "members-only" ladders, leagues, or tournaments

Right to run for board positions or to be a committee chairperson / member

Benefit from the USA Pickleball excess accident policy that may cover some of the member's out of pocket medical expenses for an accident that occurs at Sawyer Point during a club sponsored and supervised event or activity

Receive other discounts and benefits as communicated


(Expect more updates on how to utilize the above items as we finalize the details)
It IS NOT necessary to be a member to:
Play Pickleball at Sawyer Point

Be part of the Facebook or TeamReach sites

Use the park's open facilities, except in the case of courts reserved for special events

Support the facility by helping with larger events and/or "tip jar" help during concerts

Contribute to the site's endowment through the Cincinnati Parks Foundation
Membership Info by David Maxwell, Membership Director
To Join you can use Zelle, Venmo or Paypal; Note if you use Zelle or Venmo we will not be charged a fee for your membership donation. See the QR code below. If you can use either Zelle or Venmo, Please send $50 to 513-207-3964 or treasurer.PBSP@gmail.com. To use Paypal Join PickleballBrackets at https://pickleballbrackets.com/. Either way you will have to use the Search tool under Clubs for "Sawyer" to find our club.
Thank You, Rob Ryan, Treasurer
<![if !vml]>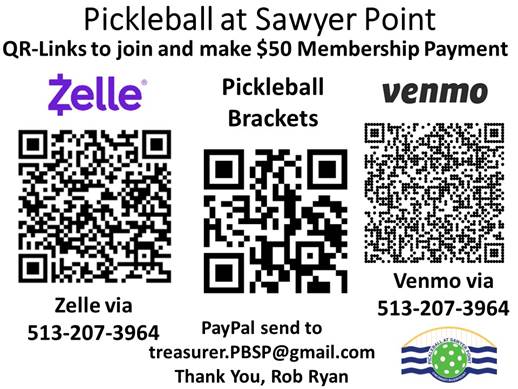 <![endif]>